Gift Cards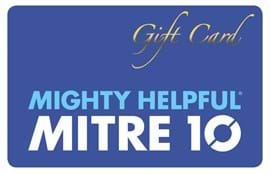 The Mighty Helpful Mitre 10 Gift Card.........the Perfect Gift every time!
At Costa's Mitre 10, we've made gift giving even easier with the perfect gift - a Mitre 10 Gift Card. With great brands and expert advice, a Mitre 10 Gift Card is the perfect solution to give to your friends, loved ones or colleagues.
A great range of Gift Card designs
Gift Cards to any value between $20-$1,000
Keep spending the Gift Card until the balance is $0
Ideal for staff and customer rewards or incentives
Mitre 10 Gift Cards offer a huge choice at one convenient location with a wide range of hardware, paint, timber and hardware from all of the best brands and the best prices.
Mitre 10 Gift Cards can be used to purchase any product in any Costa's Mitre 10 store.
Gift Cards are available in store or online. To purchase online, please click here.
USING A GIFT CARD
Using a Mitre 10 Gift card is easy - just follow these simple steps:
Present your card at any cash desk with the goods that you wish to purchase

You can select any number of gifts up to the value of the card, or above the value of the card and make up the difference with another form of payment,

Our friendly staff with validate the card and process your purchase.

Mitre 10 Gift Cards are partially redeemable. This means that any time within the 12 month validity period, any available balance can be used to make purchases. However, any unused balance cannot be refunded or credited if you haven't used the card by the expiry date.
TERMS AND CONDITIONS
Treat the Gift Card like cash. Defaced, mutilated, altered, lost or stolen cards will not be replaced, refunded or redeemed.

Gift Cards are:

Redeemable for merchandise or services at participating Mitre 10 stores in Australia displaying "Mitre 10 Gift Cards accepted here" sign;
Not redeemable for cash and cannot be used for payment of credit or retailer accounts;
Must be redeemed before expiry date shown on Card;
Will be void and may not be redeemed after expiry date;
Cannot be reloaded;
Is partially redeemable.

It is up to you to use the full value before expiry date. Cash will not be given for any unused balance. Unused balance on expiry of this Card will not be refunded or credited. If purchase exceeds available Card balance, you must make up difference with another payment method. You are liable for all transactions on your Card except to extent to which there has been fraud or negligence by us or any of our employees.

Check available Card balance by calling 1300 55 33 80.

We reserve the right to change any terms contained in these Terms of Use at any time. Changes to Terms of Use will be available on the Mitre 10 website or at the Mitre 10 store.

See in store if you have any reason to believe an error has occurred in relation to this Card.